Potential customers are like old-timey british lawyers – they always have objections.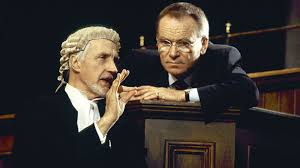 These objections, left unanswered, prevent users from converting on your landing page.
In fact, studies show that 90% of visitors leave sites without converting
You Must Answer User Objections to Get Conversions
Visitors to your landing page are there because they are interested in your offer. 
Your offer may be a freemium, a case study, or access to an otherwise gated content – these users are ready to convert. However, they will not convert if they have unanswered 0bjections
Some objections may include:
The page isn't providing the information they thought it would 

The visitor feels deceived, or the page doesn't inspire confidence.

The page is attracting the wrong viewers.

The page isn't user friendly, etc. 
The fact is, most first-time visitors to your website don't convert to a subscriber or a customer.
They have objections, and you need to know how to address them early on to get them to convert.
Things to Consider: Why Are Consumers Objecting?
You aren't Mrs. Cleo and you can't read minds…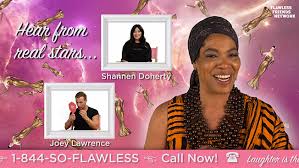 However, you should already have a clear understanding of who your potential customers are and their thought process.
A clear understanding of who your potential customer is, and their thought process, is the only way to create a high converting landing page.
The type of landing page encourages prospects to convert to a subscriber or customer. 
Common user objections include:
Privacy concerns

Security concerns

Not enough information provided to the prospect about what they are getting

Price objections
It's your landing page's job to address each of these issues so that visitors have little to no reason to object to filling out that form or taking whatever action you want of them.
Address the Problem by Anticipating User Objections
When creating your landing page, the only way to overcome user objection is to anticipate them during the creation phase. 
An excellent way to do this is to refer to your target customer profiles. 
Doing so will help you get into the mind of your customer.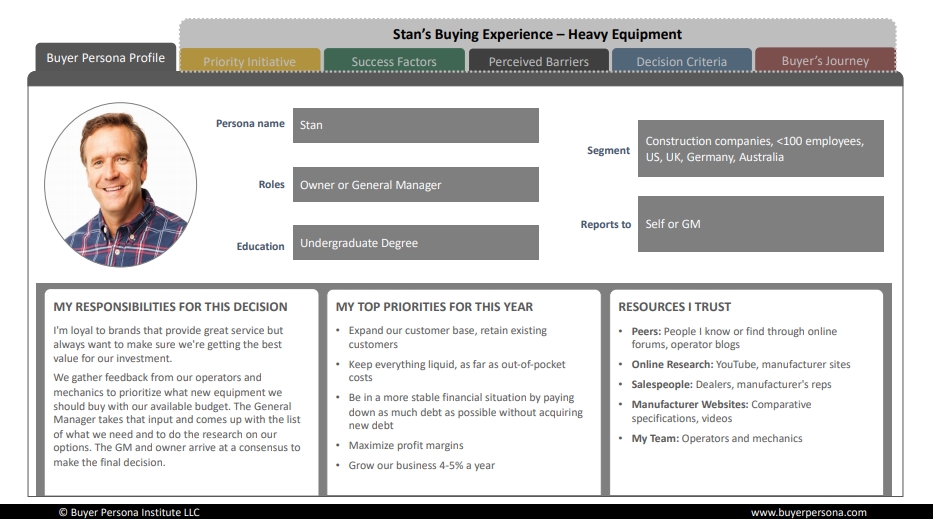 Source: BuyersPersona.com
The more detailed your customer profile is, the easier it will be to use the information and design a landing page that aligns with their wants and needs. 
Web designers understand that no two consumers are the same. So, if your audience is made up of different personas, you'll need to create separate page designs that suit each persona. 
These detailed outlines of customers you are targeting are known as audience personas. 
Things you'll want to consider during the design phase include:
User demographics, such as the age group of your audience

Device usage/screen size preferences

Persona types, such as confident, experienced professionals, or low-confidence first-time users looking for information
Convert these pieces of information into design principles that draw in your ideal customer and give them the confidence needed to take action on your landing page. 
Take person type: if your customer is a low-confidence individual looking for information, then you'll want to consider using colors that invoke feelings of warmth, understanding, and trustworthiness into your visitors. 
Colors that would suit this persona type may include blues, yellows, greens, and even oranges. These colors are gentle on the eyes and don't spark feelings of anger or excitement – colors that can easily intimidate a low-confidence persona.  
Email marketing brand Emma does a wonderful job of using these colors to help gently draw in first-time email marketers: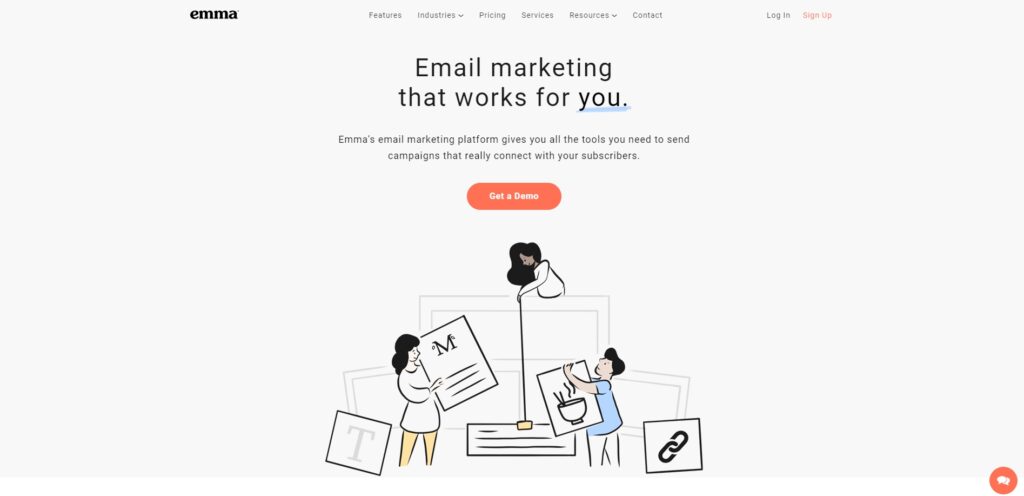 Source: Emma
Everything about this design speaks to the timid persona that is unsure of making a move.
The colors aren't intimidating, the images used invoke a sense of working together, and even the text and body copy used makes the visitor feel confident in knowing that they can do this and that this brand will be there to help guide them along the process. 
2 Common User Objections and How to Overcome Them
Understanding how the design of your landing page affects a visitor's mood and mentality is essential.
Now, it's time to start using that information and your audience personas to design a page that overcomes user objections before they have a chance to object. 
Objection #1 Users Object to Providing Information on Your Form
One of the most common user objections on almost any landing page is providing personal information to a brand that has yet to provide something of significance to the viewer. Upon finding your form, visitors will likely ask, "why do you need this information" and "is it worth providing in exchange for what I'm getting?" 
In these cases, there are quite a few ways to help put visitor's minds at ease.
Solution 1: Link to Your Privacy Policy
Those on the internet are hesitant to hand out their personal information, and for a good reason. In 2020 alone, there have been five major security breaches where consumer data has been compromised. Brands include Zoom, Marriott, and even Twitter. 
To ease visitors' worries, make sure you link to your company privacy policy directly in your signup form – make sure it opens in a new window; so you don't accidentally lead your visitor away from the form.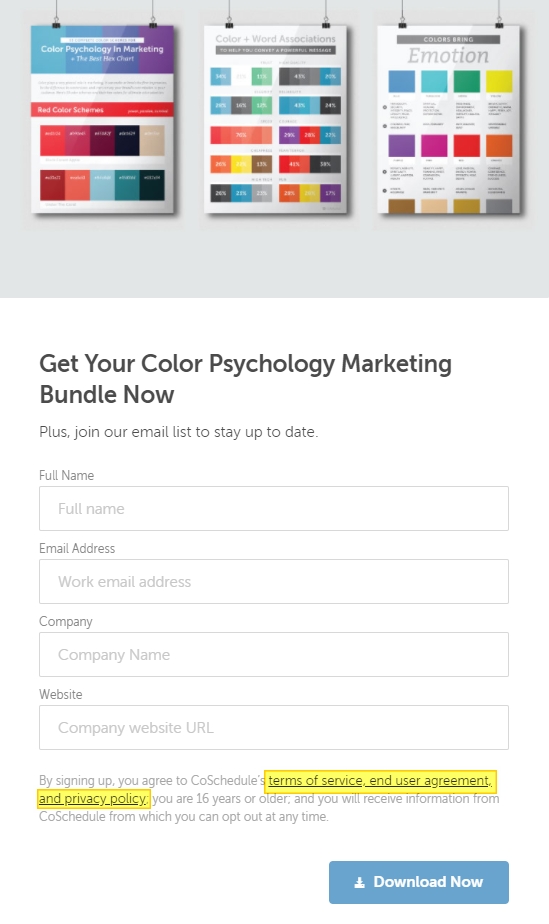 Source: CoSchedual
This allows concerned visitors a chance to review your privacy policy before they have time to object to giving out their information.
Solution 2:  In the Privacy Policy Specifically State That Your Company Does Not Sell Personally-Identifying Information
Your privacy policy should include a detailed outline of how their information will be used and ensure that your brand will not sell them personally-identifying information. 
Source: HubSpot
Knowing their information will be secured and not shared with unknown third-party sources helps to put the visitor's mind at ease. It also helps begin building trust between you and your new potential lead since they will find comfort in knowing their information is safe. By providing a detailed privacy policy, you show them that you are committed to being 100% transparent with them.
Solution 3: Request Only the Necessary Information in Your Form
Collecting visitor information is a crucial part of the marketing process. How else are you supposed to get to know your ideal market? 
However, asking for too much information too soon can backfire quite a bit. The more information you request, the more off-putting your form will appear to someone who has yet to be sold on your brand and what you have to offer. For example, consumers may question why you need to know where they are located. While that's relevant information for marketing, it doesn't come off as applicable to the person visiting your landing page. 
However, recent studies have suggested that only asking for limited information can also backfire. Why – because consumers want to know that you are treating them as individuals, not just another number. So, taking the time to ask relevant questions on your form is still important.
How do you find the sweet spot in your form? Brands find that including a multi-step form increases overall conversion rates and allows them to collect the necessary information from leads without causing unnecessary friction. 
During their recent case study, Venture Harbour found that a multi-step form helped them achieve a conversion rate of 53%.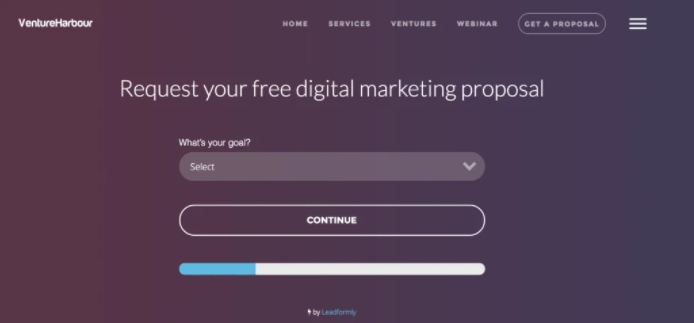 Source: Venture Harbour 
The goal is to find the right balance of necessary information and relevant information that your audience feels comfortable giving.
To do this, you may need to A/B test a few forms to see what information your audience is willing to share and what they won't.
Solution 4: Use the breadcrumb technique
If your form requires asking quite a bit from your visitors, you want to implement the breadcrumb technique. 
When building a multi-step form, you don't want to just ask for the essential information. You want to lead your visitor into a "get to know you" process. That way, you can ask for not only the relevant information, such as their name and contact information, but you can ask for some more intimate details without coming off as intrusive. 
Our client, Managed Medical Transport does a great job of this, beginning their landing page form by asking for location information, not even their personal identifying information. Once the visitor enters the relevant information into the box, they are taken to the second step of the form, asking to get to know them a little more.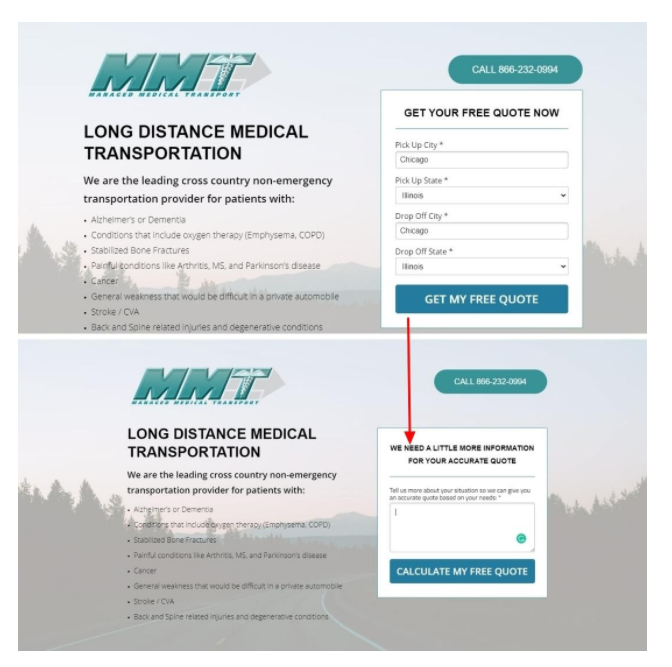 Source: Managed Medical Transport
This gives the visitor a sense of peace because you ask them to tell you about their unique needs, not simply farming them for their personal information. 
Objection #2 Users Object to Making a Payment Online
Shopping online has become the norm for millions of people. However, that doesn't mean that new visitors to your site are willing to hand over their payment information without knowing they are working with a secure site and that their information will not be shared with others. 
How do you ensure your leads that their information is in good hands?
Solution 1: Use Third-Party Trust Seals
One of the best ways to put your lead's mind at ease is to include a third-party trust seal on your page. These seals are provided by trustworthy sources that have taken the time to check your site and ensure it's safe for consumer use. These badges aren't purchased, either. 
Companies such as VeriSign, which is being utilized by Blue Fountain Media on their landing page below, the Better Business Bureau, and McAfee are reputable and provide trust.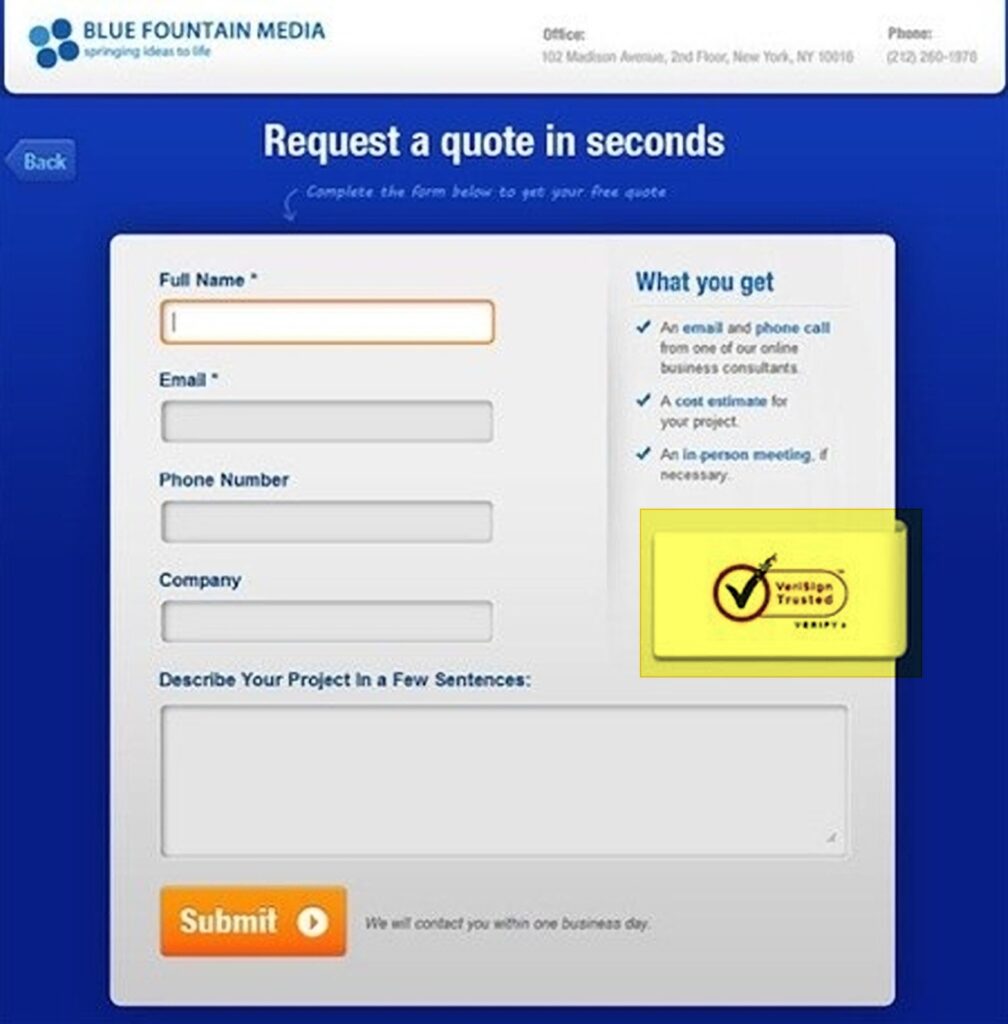 Source: Unbounce
Solution 2: Utilize Real Client Reviews and Testimonials
Another way to help build trust between you and a lead is to include real reviews and testimonials from clients on your landing page. 
Campaign Monitor does a wonderful job of this by including the client's reviews and putting a face to the text.
This approach these reviews more believable to those questioning whether to move forward with your form.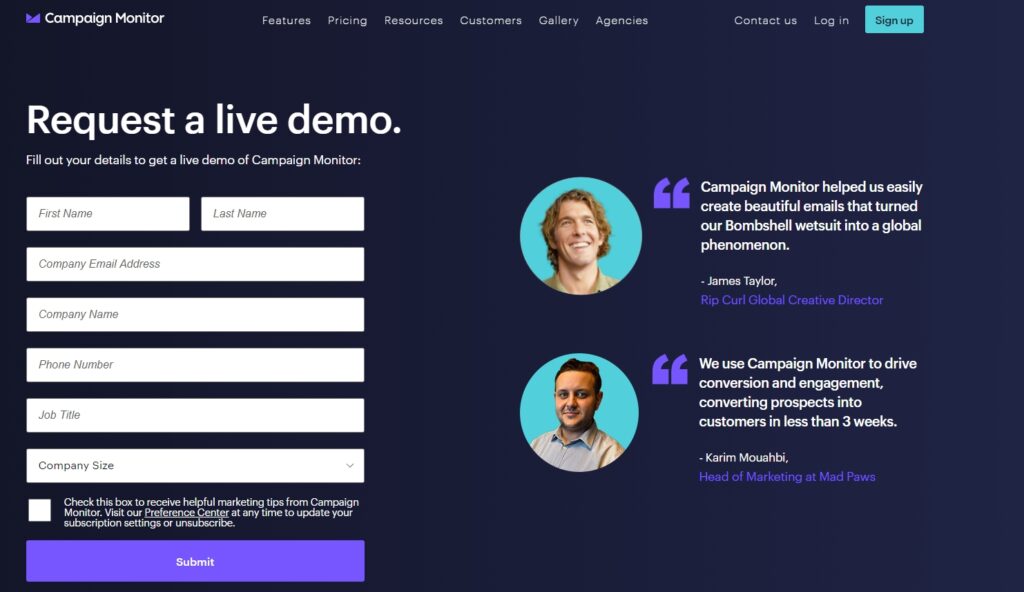 Source: Campaign Monitor
Anticipate Your Audience's Objections and Get Ahead of Them
Overcoming user objections on your landing page can seem rather daunting.
However, if you've taken the time to really understand who your ideal customer is, then you will be able to anticipate their needs and their worries. 
Use this information and get ahead of their objects.
How have you overcome user objections on your landing page?
Image Credits: