You know local customers are out there.
You see them walk by your store, looking at their phones searching for what your business offers.
Yet they still click on your competitors – even when your ads appear in the search results.
As a local business you know that you can't compete with the national competition on price because they leverage their economy of scale. These national companies use their volume-based economies of scale to make offers with razor-thin margins. 
Offers which any local business is unable to match.
You feel frustrated and see no way out.
You know the value of your local business is not the price –  the value your business provides is the knowledge of the local market and your ability to provide local customers the individualized attention and customized solution that no national business can match.
While you may not have the budget of national advertisers, you can still go toe to toe with them in Paid Internet Advertising and win. Trust me – I spend my days consistently beating national advertisers by helping local businesses with only a fraction of their competitor's budget.
I am not any smarter, I do not have any super skills. The key is something that I know about a local customer base and what matters to them.
I may not be Clarrissa, but I am going to try to explain it all about beating national brands with Internet Advertising in your local market…..
You Try to Compete with National Companies on their Terms.
Since national brands have professional advertising departments, it seems safe to assume that their digital marketing campaigns are profitable.
Many local businesses look at their national competitor's advertising campaigns and attempt to discern what aspects are driving the clicks and the sales online. They assume that since campaigns are created by professionals that they must be profitable for the national brands.
Following this logic of what works for one business should work for another –  local businesses assume that they should copy their national competitors in their local search ads. These local business owners borrow/copy some phrases that national companies use in their ads, copy the extensions, and may even try to match their offers.
However, this method of copying national advertisements is a recipe for disaster for local businesses. These local businesses can't match razor-thin margins on offers like the national companies can, and when they copy the ads the messaging doesn't make sense for the local business.
If you, as a local business owner, attempt to copy national advertisers you end up with bland ads that few people click on, and when they do click on the ads – the offers have become so discounted that they are not profitable.
Be More Relevant by Being More Local with Your Paid Search
Since you can't compete on the national companies' terms, you must outsmart them and win on your own terms.  
While the national companies do offer value in the form of cheap offers and national awards, your local company offers a different kind of value.
Your value is how local you are – and this is important in Google Ads.
The way Google Ads is designed the more relevant an ad is to a users search query the more likely it is to be clicked. This leads to cheaper clicks, a higher ad rank, and a better quality score.
One way to increase relevance to uses is to be local.
Think about it –  there are many business verticals where it is a much more relevant answer to the user's question to be a local business. If a user is looking for a carpenter, a lawyer, or a florist they often want a business that is local to their area. 
The most relevant answer is the one right down the street.
Your job is to show the user beyond any doubt that your business is the local choice.
Fortunately, there are a variety of tools within the Google Ads interface that communicate to the user just that very fact.
How To Use Google Ads to Be Local
There are 4 steps within the Google Ads platform to convey to the user that your business is relevant and local and take advantage of all the benefits of localization..
Let's go through an example of a Google Ads campaign for a law firm, based in Philadelphia who handles DUI cases (I have been running lot's of Internet Advertising for lawyers lately) and is competing with national law firms. In this case they know that their clients care that they are a Philadelphia-based business and therefore have the relevant local expertise that they're looking for.
1. Target Ads At Geographic Locations
The first step is to make sure that your local ads only show within the specified geographic locations. Within the Google Ads system, locations are set at the campaign level. We are going to set this specific campaign to run in Philadelphia only.
A. In your campaign overview, scroll down to the locations component and select the Targeted Locations button, or select the More tab which will then open up some additional options including the Locations tab.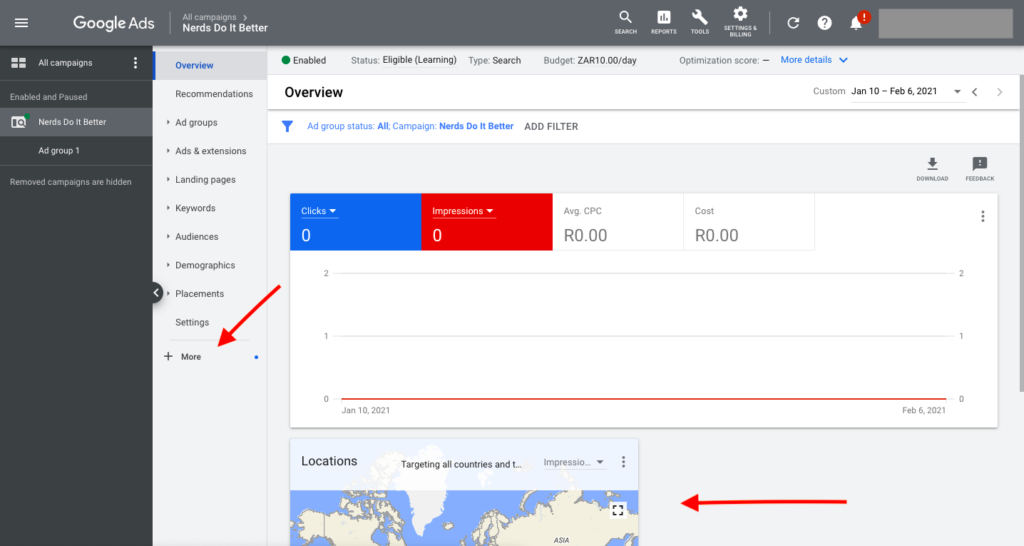 B. No matter which way you get there, you'll then see a world map with filter functionality underneath it.  Once you're there, click the Edit Locations button.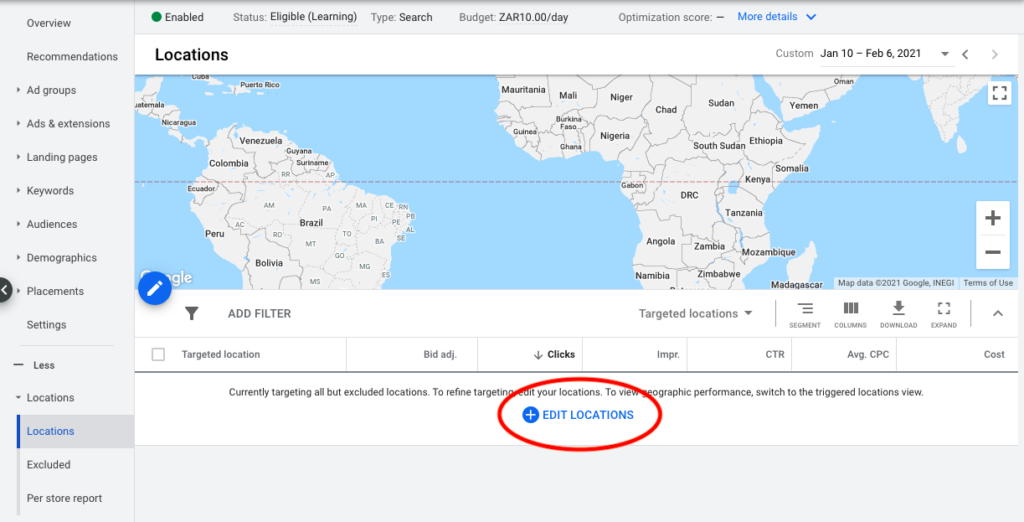 C. Now you have the option to add the locations that you'd like to target by typing in the country, city, area, or even postal code – depending on how targeted you'd like the ads to be.  We are going to add the city of Philadelphia by typing it in the box and selecting Target and then hitting Save.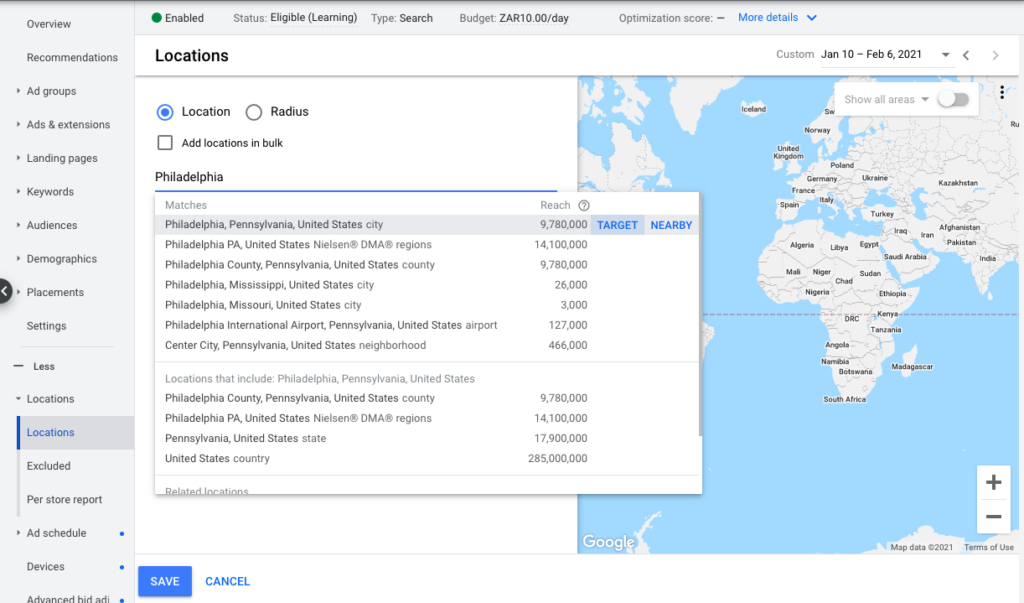 Step one is now complete – your campaign is now set up to show only in Philadelphia. Let's begin making those ads localized.

Now, you have a campaign that is only showing in Philadelphia. You want to make sure that the ads demonstrate your location to local customers. We recommend putting the location in the headline as well as the display URL.
One of the cool little tricks about Google Ads is that your display URL is literally what is displayed to the user – it doesn't have to be a real URL. So while the display URL and the destination URL have to be in the same domain, you can essentially add anything you like after the backslash. Since you are attempting to show relevance via location we recommend putting the location after the backslash.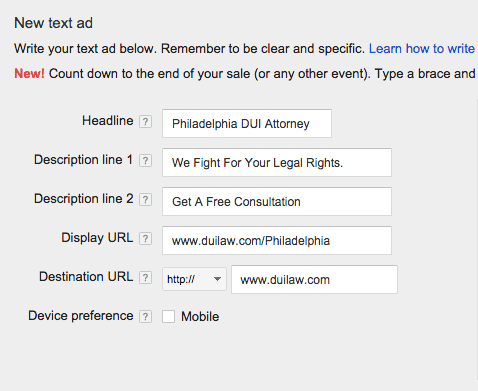 Step two is now complete – you have an ad that demonstrates that you have a local business. As a bonus tip you can put in any awards that you have won locally such as: Awarded Philadelphia Business Journal's Best Law Firm.
3. Use Location Extensions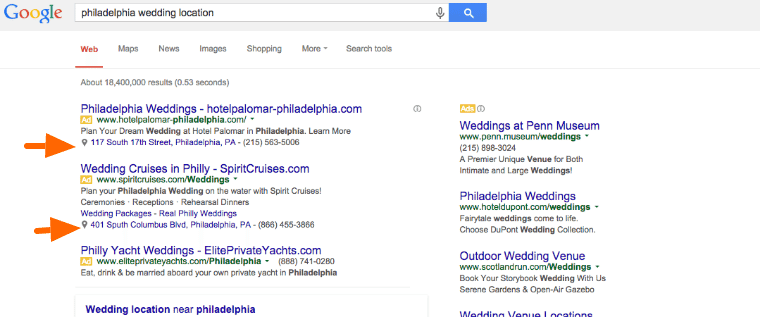 Now that you have the ads reflecting that your business is local, it is time to use location extensions. Location extensions are an option within Google Ads that allows your local address to show up below your ad.
These can be a pain to set up at first, but they are well worth the effort.
A. The first thing to do is to register your business with Google My Business. This is free to do but this is the step that takes the most time.
B. Next, go to your campaign and select the Ads & Extensions tab. Click the Extensions tab on that drop down menu to get to a page that looks like this: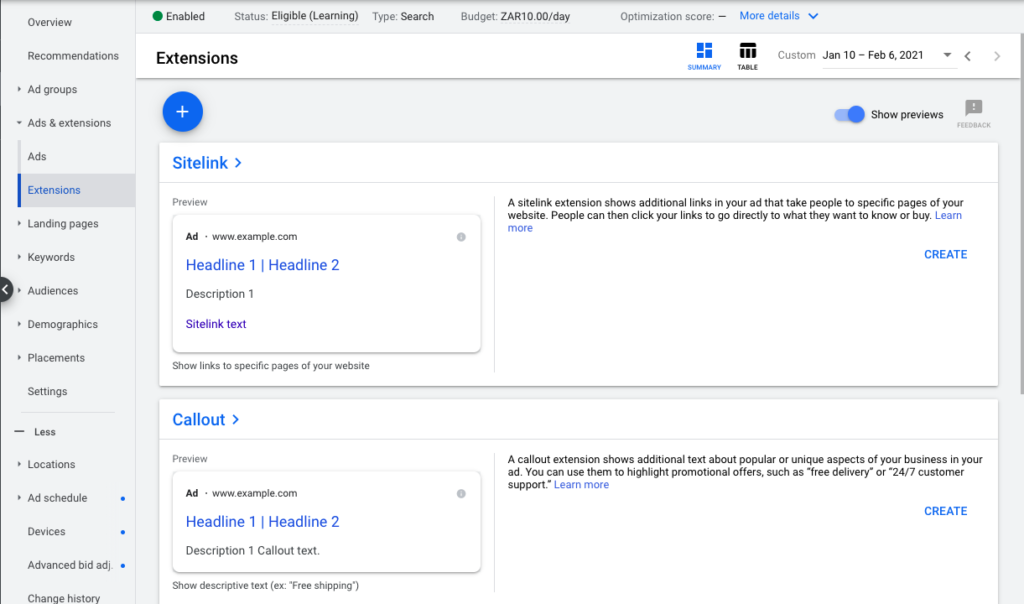 C. Click the big blue plus on the top left and look for the Location extension option.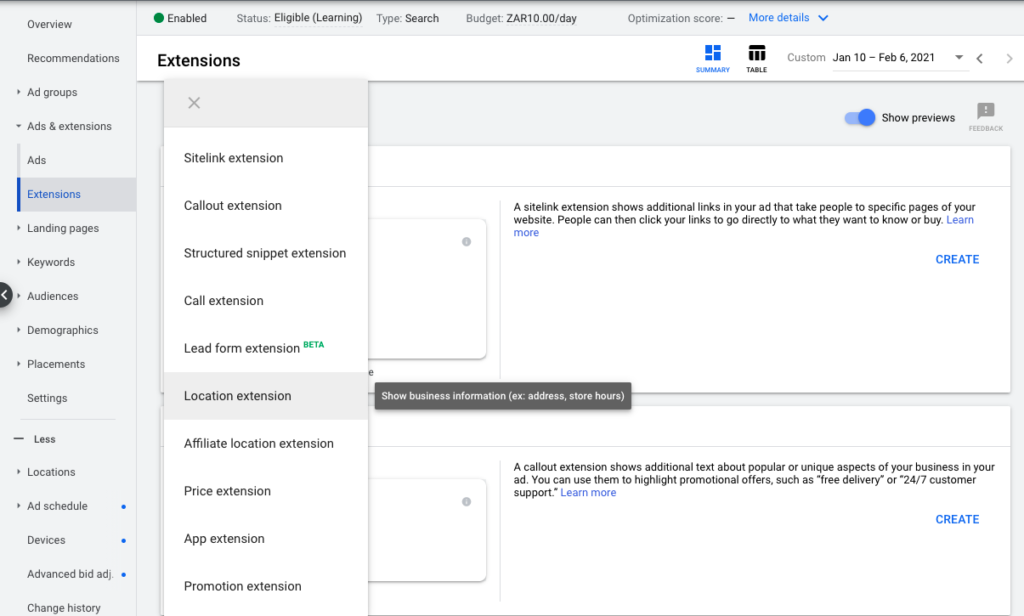 D. On the first time you do this, you'll be prompted to link to your Google My Business account that you set up in a previous step.  Once you've done that successfully, you can apply that extension on an ad group level or to a specific campaign.  Click Save to lock in your choice.

E. Choose the relevant Location Groups option if you have various localizations happening in your account, but in most cases you can select the All Synced Locations option which will route to your Google My Business selection.
With that, you have successfully completed step three and have ads which display your local business address beneath them.
4. Use a Local Phone Number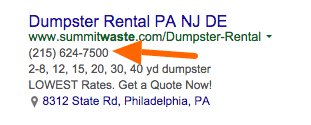 Another way to use your location to show relevance is to include your local number in your ad. This will help increase the number of inbound phone calls from potential customers who see you as the local company.
To accomplish this you must first have a number that has a local area code. If you do not have a phone number with a local area code, then there are a variety of services that you can use to get one such as Grass Hopper. For this example, in Philadelphia , that local area code is 215.
A. As before, go to the Extensions tab on the left hand side and click the big blue plus button.  You can then select Call Extensions from the drop down menu.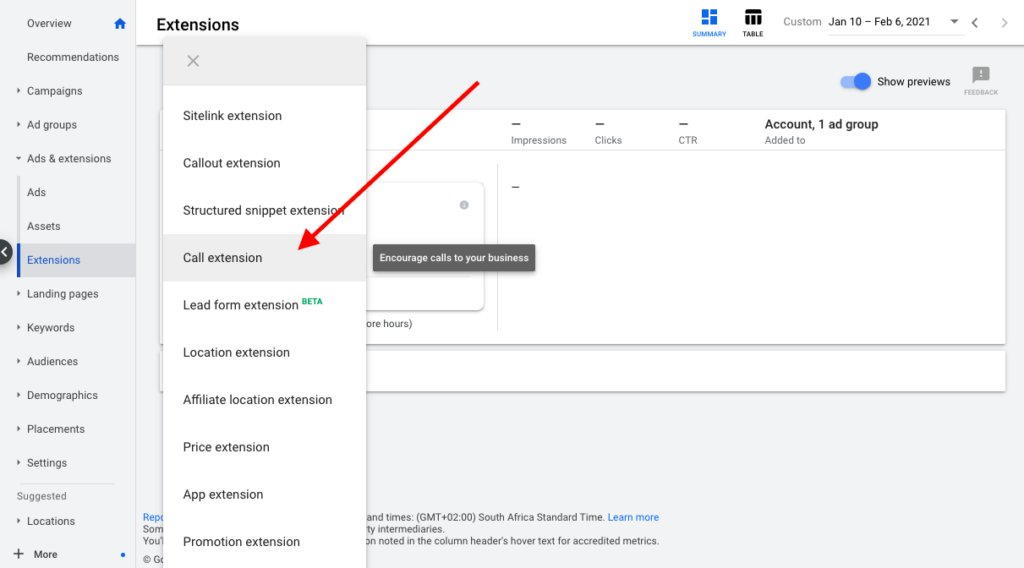 B. Select Create New and fill out all the other relevant information.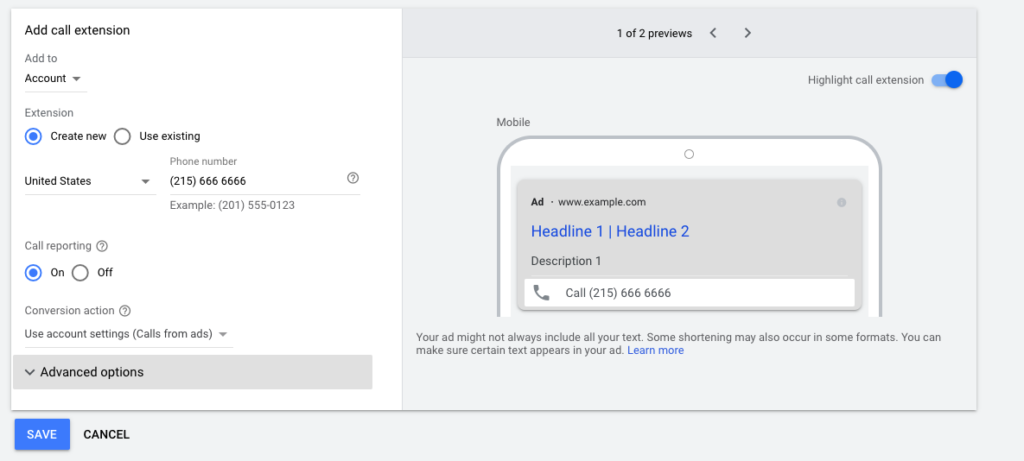 C. There are additional settings under Advanced Options where you can schedule times of availability as required.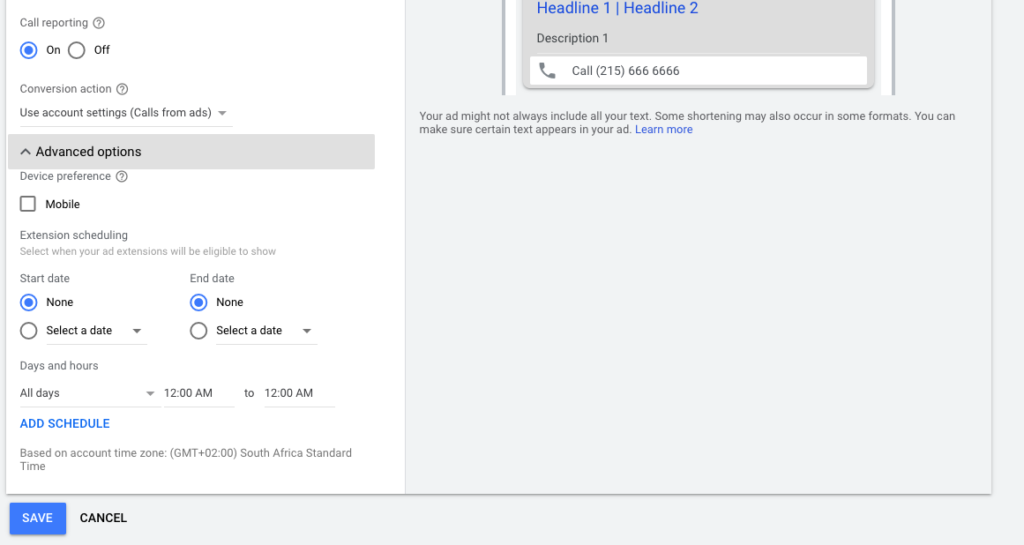 D. You can now assign that call extension to a specific campaign or on an ad group level.  Click Save to confirm your changes. 
You have now completed step four and have ads that show your phone number with your local area code.
Follow those steps and you will have a highly localized Google Ads campaign which should help your business be more relevant to local consumers. This should enable you to compete against the national players in the industry on your own terms!