How YahLight Increased Their Signups By 70.31% With A Challenge Framework Funnel
The YahLight Daily Meditation and Prayer Practice are unique combinations of stillness, music, meditation and prayer used for surrendering and connecting to The Spirit of God within. The YahLight practices are designed to improve conscious contact with God and bring you into an intimate relationship with your body, spirit, heart, and soul. Surrendering all to God's Holy Spirit, in spirit and truth, enables you to hear His will for your life.
YahLight was beginning to grow and wanted to partner with an agency to help increase signups on facebook. NDIB created a custom challenge for them for guided meditation.
After working with them for less than one quarter NDIB was able to increase sign ups by 70.31%.
Lookalike audiences

Challenge framework funnel

Split testing offers

Social advertising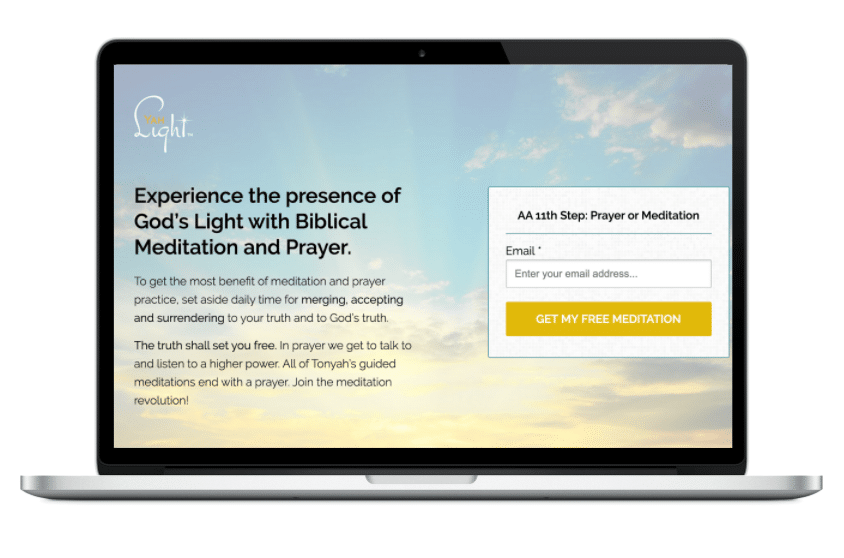 YahLight was able to increase their sign ups by 70.31% which led to more sales and data insight from customers.
Decrease in cost per acquisition
Increase in conversion rate
"NDIB and the team there have a real sense of urgency. They are able to take ideas and quickly implement them into campaigns. I have been very happy with the level of professionalism and also their ability to help me hit my real world business goals."
Get Your free Consultation and see how we can help you grow