Compass Real Estate Grows Their Inbound Leads From Digital Over 700% With Help From Nerds Do It Better
Compass is building the first modern real estate platform, pairing the industry's top talent with technology to make the search and sell experience intelligent and seamless.
Before working with NDIB, Compass was unsure how to best sell real estate using facebook. They didn't have the resources or time to build an a funnel to bring in both buyer and seller leads.
They now have a reliable and sustainable funnel to drive new leads interested in both buying and selling real estate.
Custom Landing Page
Dark Posting for Comments

Yes Ladder Funnel

Optimized Audiences for Buyer and Seller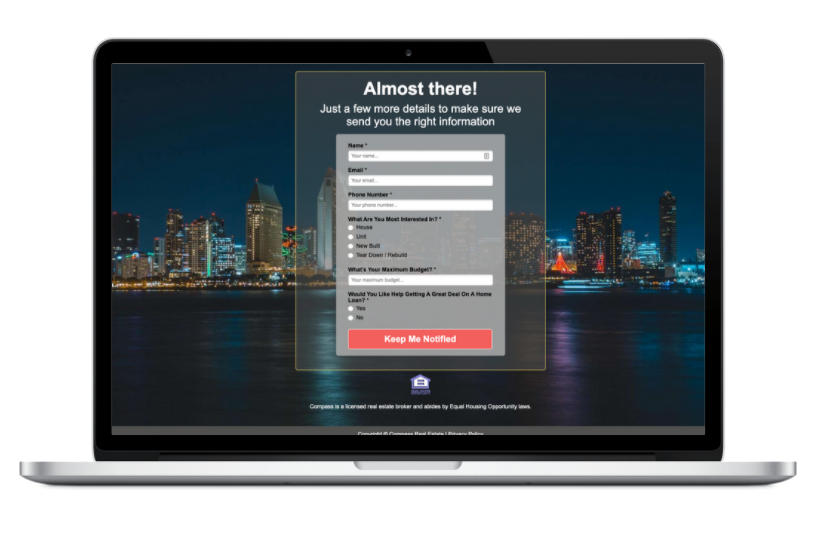 Compass was able to increase their lead flow by over 700%
Decrease in cost per click
increase in click through rate
"I couldn't be happier with the results I'm getting with my targeted ad campaign. The leads came in immediately and everything Adam said he would do he did. Now, the conversion is up to me. While I value the leads and new opportunities I now have, I am much more thankful for being introduced to NDIB. It is not easy to find someone who is transparent about what they will be able to do without overselling or promising that which can't be delivered. If you are not using NDIB, you should. If you are using NDIB, you should continue to."
Get Your free Consultation and see how we can help you grow